Water Softening in Northwestern PA, Western NY and Northeastern OH
Eliminate hard water problems in your home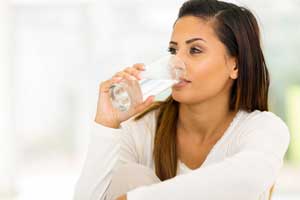 Solve hard water problems in your home with a water treatment system installed by Klein Water Solutions. We will custom design a system to help reduce water contaminants and scale buildup and extend the life of your appliances. Plus it'll also give you better-tasting water and make cleaning easier.
We offer free estimates in Erie, Harborcreek, Meadville and many areas in PA, NY and OH. Call 1-814-456-5605 or click below to schedule yours today!
Signs of a hard water problem
Water contains elements such as magnesium and calcium which can contribute to the hardness of the water. If you have hard water, you might notice:
Staining or scale buildup in your toilet, sinks, tubs, dishes or clothing
Dry feeling on skin
Reduced water flow from faucets and appliances
Your Klein Water Solutions water expert can provide a water test for hardness and other elements.
How the PhSmarte 1000 electronic descaler works
The PhSmarte 1000 water treatment system uses 304 stainless steel cathode and anode impulse technology to change sticky calcium bi-carbonate to soft soluble calcium carbonate. The all-in-one system treats up to 60 grains per gallon (GPG) of hardness.
What this means for your home:
Reduces existing hard water scale in 120 days or less
Eliminates new hard water scale
Protects plumbing, appliances and water heaters from hard water scale damage
Reduces bad tastes in drinking water and food prepared with water
Take the next step to better water
Contact the water experts at Klein Water Solutions today to learn more, get a free estimate or schedule your water test. We offer complete water softening and water treatment solutions in Erie, Harborcreek, Meadville and the surrounding areas.
Looking for a price? Get a no cost, no obligation free estimate.